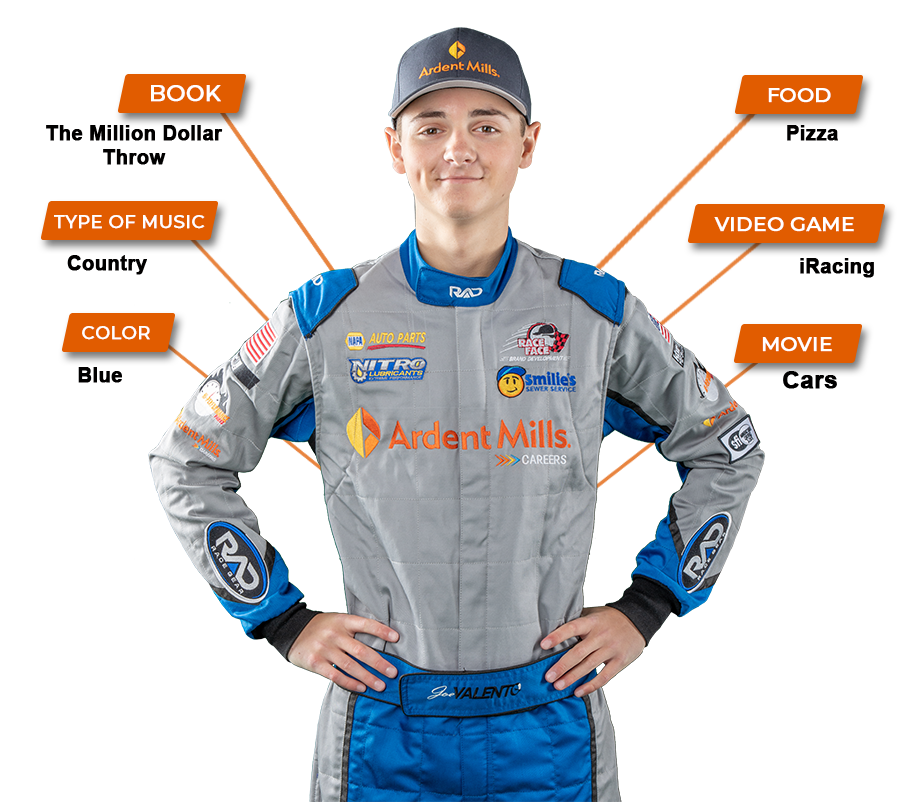 Joe Valento is a 16-year-old racer from Scandia MN. Joe started racing at the age of 8 years old where he competed in the Quarter Midget Association (QMA) series starting in 2013 and then added the USAC Quarter Midget Series in 2016. From the very beginning, the focus was not on winning local championships but to visit a variety of different tracks across the country and compete against the best drivers in the country during this developmental time in Joe's racing career. In 2017 Joe was selected to be part of the 2018 Race Face NEXT Program as one of the top up and coming young racers in the country. The NEXT Class not only recognizes young drivers with remarkable driving skills but also drivers with the passion to learn what it takes to be successful off the track. In 2019 Joe drove for KBR Performance and finished his season with 4 top 5 finishes, 4th in points, and was the Midwest Truck Series Rookie of the Year. In 2020 Joe will continue with KBR Performance running in the Midwest Truck Series and will also be competing in select Carolina Pro Late Model Series events.
AGE: 16
RESIDES: Scandia, MN
SERIES
Midwest Truck Series

Pro Late Models


Joe will be driving for KBR Performance which is owned and operated by Kelly Bires who drove for both the Monster Energy NASCAR Cup Series and the NASCAR Xfinity Series for Dale Earnhardt Jr's Jr Motorsports. Kelly now operates a full-service race program for developmental drivers by supplying top-notch cars, trucks, fabrication and race day support. Kelly also assists in on-track training for young drivers. This is one of the best programs in the country for young drivers trying to make it to one of NASCAR's top series.
Joe will be competing in select Legend Car Races for Great North Legends with 10 Time World Champion Tim Brockhouse. Great North Legends is a Full-Service Legend development "Arrive and Drive" program that includes coaching, car transportation, car setup, maintenance, and trackside support. Our "TEAM" approach provides our drivers and crews the greatest opportunity for unlimited success.